ULEZ Fightback: Multiple London Boroughs Begin Their Rebellion
Multiple London boroughs are joining the ULEZ fightback. Perhaps not all councils are completely useless?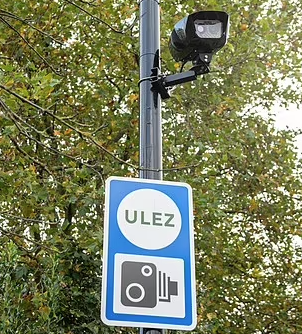 Will the ULEZ expansion be successful? With the government waving its authoritarian finger again it appears resistance is growing.
Sutton council lead the way with this statement:
"We are taking this step to send a strong signal to the mayor that he must start listening to local people. Though the mayor… may attempt to force this unpopular decision on the residents of Sutton, we are clear that would be the wrong thing to do.

"Sutton does not have the public transport links other boroughs rely on, like Tube and overground services. Instead, people here need cars to get around."
The pushback against The Climate Con and further restrictions to our freedom extends outside of Oxford which had a recent day of action as well as fierce resistance from locals with its not just ULEZ (ultra low emission zone) but ZEZ (zero emission zone).
To have councils standing up against Sadiq and net zero madness is a positive sign, not all the resistance will come from activists on this one it seems.
Harrow, Hillingdon, Bromley & Bexley Write A Joint Statement In Opposition To ULEZ Expansion
It appears mainstream media is attempting a clever form of damage control with only the fightback from Sutton making headlines.

Further research shows that Sutton is not alone in the ULEZ fightback. Here follows a statement from Harrow council:
"Our growing coalition of London councils are not satisfied with the justification for the expansion and remain strongly opposed to it. Until we have seen compelling evidence to the contrary, it remains our position that this scheme will not translate successfully to outer London and the negative impact to local households and economies will far outweigh the negligible air quality benefits."
If we attack tactically and smartly from every angle, the net zero, great reset will completely flop and every proponent of it will lose all credibility. They really have gone all in on this.

Imagine having one great reset failed and then trying to pitch another? Ok, this time it will be the 'greatest reset'!?

With the recent Davos meeting we can see that they have no intention of reducing their carbon footprint with over 1000 private jets flying in. They just want you to reduce your Co2. But in a recent interview with Gregory Wrightstone from the Co2 Coalition we find out that Co2 is actually really beneficial for our environment and we want a lot more of it!

Education is a brilliant tool in our fight against The Climate Con.
Support the cause by becoming a member and unlocking part 2 of The Climate Con Podcast episodes or simply make a donation. Thank you.

Continue Reading